BRAD!BRYAN Multimedia won 6 ADDYs at the 2017 American Advertising Awards, along with a special recognition from Adfed Suncoast.

 Silver ADDY Awards

Gold ADDY Awards
These two Gold-winning entries will proceed to district-level judging in the national competition.  Adfed Suncoast is part of District 4, which includes all of Florida and the Caribbean.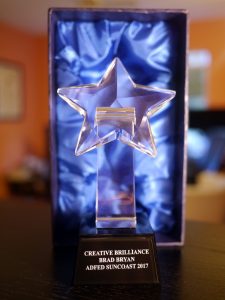 Special Recognition
Adfed Suncoast, the local chapter of the American Advertising Federation, also honored Brad Bryan with a "Creative Brilliance" award in recognition for his volunteer work for the club over the course of the previous year, including serving on the ADDY committee, creating promotional videos throughout the year for club events, and creating the video reels for the 2017 ADDY Gala.
About the American Advertising Awards
The American Advertising Awards is the advertising industry's largest and most representative competition, attracting more than 40,000 entries every year in local American Advertising Federation club competitions.  The local phase is the first of a three-tier, national competition. Concurrently, all across the country, local entrants vie to win ADDY Awards – recognition as the very best in their markets. At the second tier, local ADDY winners compete against winners from other local clubs in one of 15 district competitions. District winners are then forwarded to the national stage of the American Advertising Awards.  Read more about Adfed Suncoast's 2017 ADDY Awards Gala, "The Night Advertising Stood Still".